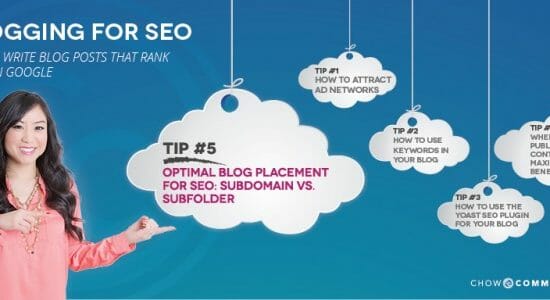 Where does your blog reside? Does it exist as a subfolder or a subdomain?
Here's what each of these mean:
A Subfolder looks like this: http://yoursite.com/blog example: https://chowcommunications.ca/blog/
And, a Subdomain looks like this: http://blog.yoursite.com example: blog.hubspot.com
Which kind of blog hosting is best for SEO and generating link juice: Subdomain vs. Subfolder?
I did a quick survey among my other SEO colleagues to see what they thought – and the general consensus was: "It depends." It depends on your long term and short term goals, what others in your industry consider the norm or standard, and how good you are at getting immediate and long term traction to your site. I personally prefer using a subfolder set up but I can argue it both ways if you want to factor in both the SEO benefits and the branding benefits. I've listed out some obvious – and not so obvious – pros and cons of having a subfolder blog or a subdomain blog. Let me know what you think – I'd love to hear what's worked for you!
1. When You Have Your Blog As A Subfolder:
Benefit: Google and other search engines will generally crawl new blog posts within a few days of you launching your blog.
Benefit: A subfolder blog will inherit the authority of the parent site that it's on. This means you can rank pretty quickly for keyword terms within your blog posts.
Benefit: Much-coveted backlinks and social mentions generated by your blog content can help increase the chances of other pages on your site being visited and read. It also adds to the overall authority of your site when a lot of traffic is coming into it, thus potentially boosting the rankings of your other website pages. Basically, any and all social sharing equity and link juice is passed back to the main root domain.
Benefit: Arguably, easier to manage your blog since it's already on your main website and easier for users to navigate from your home page, to your blog, and onto other pages within your site.
2. When You Have Your Blog As A Subdomain:
Benefit: Hosting your blog on wordpress.org or on blogspot.ca can sometimes be easier, especially if you're a techno-phobe or tied to your developer and you don't have full control over your site (common with small business owners). Or, if your site is fully customized and it's expensive to add a blog to it (according to your designer/developer).
Benefit: Can provide a source for backlinks to your main site using keyword anchor text. But, in order to do this, your subdomain must first do two things:
Drawback: Your subdomain needs to establish its own reputation through great content that's worthy of being indexed AND through backlinks that it gets from other sites. This means that…
Drawback: Your subdomain may not rank as highly or as quickly because it doesn't have a parent domain to leverage content off of.
I know a lot of photographers like to have their website and their blogs separate. It's an industry norm and, as a photographer, every photoshoot you have generates content for your site. In other words, content is abundant so it may not be as much of an issue to have a separate blog and website.
Just remember that your business decisions must be made based off the BUSINESS YOU'RE IN and what BUSINESS GOALS you have. And, that includes your blog, how you market it, what content you create around it, and how you position it online.
KEY TAKEAWAYS:
Here are some golden nuggets of info that I want you to take away with you after you read these blogs and apply your newfound knowledge to your own works:
Know the goals of your blog. Every time you sit down at your computer to start writing, think about what you need to do to achieve your goals and ensure your keywords are in line with what you want to rank for.
Grab your viewers! Make them want to read every single one of your blogs down to the last word. If they're not interested in what you're writing about, then what was the business purpose of you writing in the first place?
Frontload your keywords in the title and in your first paragraph.
Get an SEO plugin and be smart about your keywords — know when and where to use them.
Build an efficient and effective social sharing and publishing strategy. Post content where you know you'll make the biggest online impact.
Understand traffic. Learn how to use Google Analytics and Webmaster Tools.